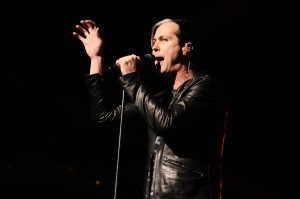 Concert Review
Kerfuffle Before Christmas
First Niagara Center
Buffalo, NY
Thursday December 18, 2014
Review/Photos: Joseph Suto
With Christmas one week away, it became an evening of celebration in downtown Buffalo Thursday night. The grand opening was held for The Ice at Canalside which now sits on the site of the where the Buffalo Memorial Auditorium had once stood. Alternative Buffalo (107.7), also held what they hope will become an annual tradition with their first holiday concert entitled "Kerfuffle Before Christmas". The radio station also sponsored the original Kerfuffle at Canalside Buffalo this past summer to a rousing success.
The crowd of just over 6,000 were treated to stellar sets by Fitz and the Tantrums and The Neon Trees at the First Niagara Center Thursday evening. While the crowd may have been less than half of what last night's Bob Seger concert drew, it did not take away from their energy.
It was a no-brainer having Fitz and the Tantrums headline the affair. They put on another strong showing back in July at Canalside and seem to be hitting on all cylinders. Led by singers Micahel Fitzpatrick and Noelle Scaggs they tore through their standards. "Out Of My League" and "Break The Walls" were among the highlights.
Backed by an impressive collaboration of musicians including bassist Joe Karnes, keyboardist Jeremy Ruzumna, drummer John Wicks while saxophonist James King helped to round up the lineup.
The show concluded with the band's biggest hits "Moneygrabber" and "The Walker" as they were able to end the show right at 11 PM.
The Neon Trees are certainly no stranger to this town as they did double duty by playing an acoustic set at the Ice At Canalside opening before their Kerfuffle appearance.
Check back for the complete review.