This is the section where if anything noteworthy happens…you'll find it here.
ACE FREHLEY
ROCK LEGEND ACE FREHLEY SIGNS
WORLDWIDE MULTI ALBUM DEAL WITH
ENTERTAINMENT ONE MUSIC

"SPACE INVADER," FIRST NEW ALBUM
IN FIVE YEARS, AVAILABLE ON 6/24/14

FREHLEY TO BE INDUCTED INTO ROCK
AND ROLL HALL OF FAME AND
TO APPEAR AT THE REVOLVER GOLDEN
GODS AWARDS IN APRIL
(New York, NY) – 2014 Rock and Roll Hall of Fame inductee  
ACE FREHLEY
 will release 
SPACE INVADER
, his first new solo album in five years, via Entertainment One Music (eOne Music) on 
June 24th, 2014
. The album will include at least nine brand new original songs as well as a cover of Steve Miller's "
The Joker
."  This album is the first release under Frehley's new universal deal on eOne Music.
Frehley has released an official statement surrounding the exciting news:
"Life on Earth has been very good to me, and the body of work I've created over the years has withstood the test of time.  Today I see no obstacles before me and my creativity has never been more fine tuned. Growing up in an Alien world has enhanced my senses and allowed me to succeed where others would have failed. The best is yet to come!"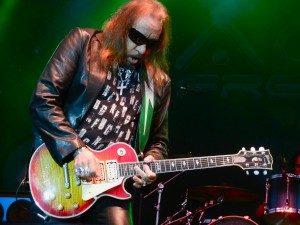 Widely known as the original "Space Ace" and founding guitarist for 16 cumulative years (over 2 tenures) of the multi platinum selling rock band 
KISS
, Frehley is demonstrably the most popular original member.  In addition to having the best selling solo album career (vintage or current) among the original foursome, Frehley's self titled 
Ace Frehley
, released in 1978, went on to sell over 
one million copies
, producing the only Top 40 single, "
New York Groove,
" from any of the legendary 
KISS
 solo albums; (peaking at #13).   The massive hit was most recently 
featured in an episode
of cult show "Entourage" and was also KISS' second bestselling download in 2012, besting such KISS Army anthems as "
I Was Made For Lovin' You," "Beth
" and "
Calling Dr. Love
" even after 36 years.
Since departing from KISS, Frehley went on to release four more solo albums and one live EP including his most recent effort, Anomaly in 2009, which debuted at #27 on the Billboard Top 200 chart and received a welcoming response among critics. "'Anomaly' shows why many rock and metal guitarists list 'Space Ace' as a prime six-string influence," said Rolling Stone.
ACE FREHLEY will participate in the 2014 REVOLVER GOLDEN GODS AWARDS show by presenting the Dimebag Darrell "Best Guitarist" Award alongside label-mate Zakk Wylde. The awards show will take place on April 23, 2014 at the CLUB NOKIA Theater in Los Angeles. Tickets are on sale now!
Frehley adds comment.
 "It's exciting to finally be part of the Golden Gods, awards and an honor to be part of any Dimebag memorial award.  He was a friend, and I know everyone misses him, as do I."
BUCKCHERRY NEWS
From former bassist Jimmy "Two Fingers" Ashhurst
Ok that's it…
Now even my doorman's checking on me to make sure I'm not dead sooo…, here goes.
Over a month ago now the band collectively decided that they would prefer to proceed without me.
I haven't made any sort of announcement prior to today since I believed and still believe that this news should have come from the band itself.
However, since they're already on their 3rd or 4th show without me and still haven't let anyone know (maybe they're having trouble finding wifi or somethin …that shit's expensive yo); since it was not my decision to leave the band; since I'm uncomfortable not answering the many kind but speculative messages I've been receiving; and finally since I believe that there are folks out there who've been loyal and supportive of us over the years and as such have a right to know; – Im forced post this myself in order to finally put this to rest and move forward with whatever shows up next for me.
If you're looking for a reason you'll need to ask them, since the one they gave me of my being 'unhappy' and of them 'doing-me-a -favor-to-release-me-from-this
-torment' isn't really resounding with the 'Ring of Truth'…. (If everyone who had a job were sacked for being unhappy who'd clean the tollets for fuck's sake, only happy people? … dunno…but I digress…)
While it is true I'd become unhappy about certain aspects of touring and of the state of Rock and Roll in general that I believed were of vital importance to our collective well-being, I still believe that those issues could have easily been resolved as a group. Sadly others did not agree and as a result- result.
I dunno. Im gonna go with "Im a Democrat and they're Republicans" if anyone demands an answer or whatever…As far as what I'm gonna do next…
Welllll hahaaaa…ZERO for the moment, but after a bit of refresh/recharge I doubt that I'll be able to resist the temptation of the Devil's music for very long.
First and foremost, however, I very much wanna take a moment to enjoy the life that my work with the band has provided me with, while it lasts, and I thank the band, all of em, for giving me this opportunity to do so.
I wish nothing but continued success for the guys, and I hope the new guy works out great
(I dunno who it is so please don't ask. I do hope he's super cute though).
In closing, to all fans of the band: Arrivederci, Nos vemos, Au revoir, いってきます, Até mais, and See ya later…
but to everyone else… Im back.