This is the section where if anything noteworthy happens…you'll find it here.
Kate Pierson
Debut Solo Album Guitars and Microphones Out Feb 17
via Lazy Meadow Music/Kobalt Label Services
Unleashes "Mister Sister" Video ft. Fred Armisen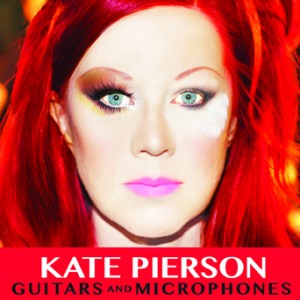 Kate Pierson – iconic voice and founding member of the B52s, punk, new wave, genre-defying band has announced her debut solo record Guitars and Microphones, released February 17 via Lazy Meadow Music/Kobalt Label Services. Produced by Tim Anderson (Ima Robot) and featuring Nick Valensi of The Strokes on several tracks, Kate collaborated on songwriting with Sia who also executive produced the album.
Album opener "Throw Down the Roses" is an empowering humanist anthem, maintaining that one can embrace the world, radiate positivity and still kick butt when necessary. Upbeat title track, "Guitars and Microphones" plays upon a galactic pop groove. The lush "Bring Your Arms" is an immediately infectious synth-pop jam with a move to the groove environmental theme. Kate's soaring emotive vocals on "Mister Sister" is a poetic love letter of the power of transformation – – welcoming the freedom to live (and dance) and daring to transcend gender boundaries. "Mister Sister" is available on iTunes as an instant-grat MP3 w/Guitars and Microphones pre-order now!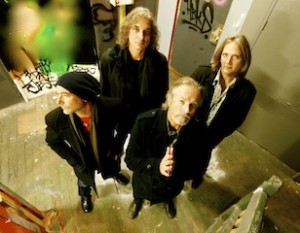 October 20, 2014 – The Church need no introduction. After over three decades of making music in various formats, lineups, places and cognitive states, this is a band who have committed, even succumbed, to exploring unchartered sonic territories. The next chapter comes in the form of new music, a new band member and a chance for that to be shared with old fans and new ones through the release of The Church's 25th studio album titled Further/Deeper, which will be released in North America on February 3rd 2015.  2015 also marks the 35th anniversary of the band.
At this stage of the journey, Further/Deeper seems both unimaginable and the only option on their endless quest from chaos to resolution. It's an album of breathtaking new vistas and intense emotions, of sinister black caskets and gorgeous caverns of light, a work born of immense struggle and effortless expression.
"The magic started on day one," says singer/bass player Steve Kilbey. "Someone strummed a chord or struck a drum or plucked a note and we were off. We wrote and recorded like demons and it was inspiring to feel every member using all his resources in the service of this record."
With longtime member Marty Willson-Piper being unavailable, Ian Haug (Powderfinger) has come on board to partner the iconic guitar playing of founding member Peter Koppes. Alongside Steve Kilbey, stalwart drummer Tim "timEbandit" Powles – who also produced the album with the band, Haug has helped the quartet to together discover a new textural dimension, and has acted, according to Kilbey, as a "blood transfusion that has brought us back to life."
Twenty-six songs were born over eight days of exploration in Sydney in late 2013. Guitarist Peter Koppes, recalibrating his personal canvas in the absence of his long-time foil Willson-Piper, drew palpable inspiration from the quartet's remixed chemistry.  "This new incarnation of the band with Ian Haug has brought a joyous energy to the music we've written together," he says. "The rhythm swings more than usual yet the moods still range from melancholy pop to our modern version of heavy psychedelic rock, as in 'Laurel Canyon', to the epic gothic-progressive dance track, 'Globe Spinning'."
From the ominous allure of the lead track, "Vanishing Man," to the beguiling tippy toes of "Pride Before A Fall;" the chiming keys of "Love Philtre" to the sheer hammer horror "Toy Head;" the exhilarating breeze of "Old Coast Road" and the ultimate, panoramic drama of the mini-screenplay that is "Miami," Further/Deeper, delivers on the promise of its title in a combined blossoming of melody, rhythm and audacity.
For Ian Haug, transitioning from the multi-platinum ashes of his previous band Powderfinger to join "one of my favorite bands of all time" was an utterly surreal experience, audibly expressed in fantastic new dimensions of the church's fabled 'guitarchitecture'."
"The first song we wrote was 'Miami,' and from there we splintered off into several styles of surreal to intense psychedelia — and songs to make you drive fast," he says. "It was a trip. And an incredible honor to be accepted so readily into a songwriting as well as guitar-playing role."
Drummer Tim Powles was again instrumental in the painstaking alchemy that boiled the explosion of ideas down to 12 potent pieces in the early months of 2014, a process that often saw members working simultaneously in separate studios across multiple instruments to produce a work of singular cohesion.
"After an eternal twenty years in The Church I marvel more than ever at how we've become masters of our own freedom," he says. "No strings attached, no view to winning a prize. How lucky are we? Or have we earned it? We've got better at it too. Or maybe it's got the better of us. It seems to devour us. Like magic."
The first taste of Further/Deeper comes in the form of the track "Pride Before A Fall." The ballad introduces us to the next step in the church's sound, and while embracing the signature psych leanings fans have come to know and love, 'Pride Before A Fall' is proof that the band are making music that is both futuristic and relevant.
A North American tour is in the works with details to be announced shortly.
#          #          #
Further/Deeper Track Listing
Vanishing Man
Delirious
Pride Before A Fall
Toy Head
Laurel Canyon
Love Philtre
Globe Spinning
Old Coast Road
Lightning White
Let Us Go
Volkano
Miami
BILLY IDOL WINTER 2015 U.S TOUR DATES
January 21: House Of Blues, New Orleans, LA
January 22, The Tabernacle, Atlanta, GA
January 24: Tower Theatre, Upper Darby, PA
January 25: Lincoln Theatre, Washington, DC
January 28: Beacon Theatre, New York, NY
January 31: Orpheum Theatre, Boston, MA
February 3: Metropolis, Montreal, QC
February 4: Massey Hall, Toronto, ON
February 7: Riviera Theatre, Chicago, IL
February 9: Paramount Theatre, Denver, CO
February 12: Queen Elizabeth Theatre, Vancouver, BC
February 13: Paramount Theatre, Seattle, WA
February 15: The Fox Theatre, Oakland, CA
February 18: The Wiltern, Los Angeles, CA
All shows go on sale Friday, October 10. with the exception of Montreal, Toronto and Vancouver, which go on sale Friday, October 17. The on sale date for Oakland is TBA.
###
BILLY IDOL was an early architect of the sound, style, and fury of punk rock. His lip-curling sneer and fist-pumping persona vaulted him into the mainstream as one of MTV's first megastars, making him one of the most recognizable faces in pop music, while selling out arenas everywhere he played. He has sold 40 million albums while scoring numerous platinum albums worldwide, nine top forty singles in the U.S. and 10 in the U.K. including "Dancing With Myself, "White Wedding," "Rebel Yell," "Mony Mony," "Eyes Without A Face," "Flesh For Fantasy," and "Cradle Of Love."
BILLY was responsible for some of punk rock's most memorable, literate, and evocative moments and created a pioneering new sound by bringing the spirit of '77 to the dance floor, going on to fashion an immediately identifiable musical blueprint that integrates club-land throb, rockabilly desperation, and rock'n'roll decadence.
The autumn of 2014 will see IDOL return to the spotlight with two high profile releases that mark the latest chapter in the long and remarkable story of a musician, an inventor, a survivor, a father, a son, a man who returned from the brink, and a rebel whose yells made the mainstream sit up and pay attention.
On October 7, Simon and Schuster will publish BILLY IDOL's autobiography, Dancing With Myself.  It's an electric, intelligent, brutally honest and entirely self-written account of BILLY IDOL's journey to fame, from his early days as front man of the pioneering UK punk band Generation X to a long and often decadent life lived loving sex, drugs, rock'n'roll, and motorcycles.
On October 21, BFI Records will release Kings & Queens of the Underground, BILLY's first album of new material in nearly a decade. The album's palette will be instantly familiar to lovers of classic BILLY IDOL, while announcing a firm step into the future. Produced by Trevor Horn (with two tracks co-written and produced by multiple Grammy nominee Greg Kurstin), it is full of thumping, cinematic songs about sin, redemption and the love of rock'n'roll.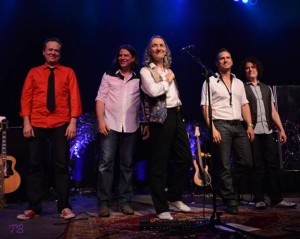 Roger Hodgson, legendary vocalist and singer-songwriter from Supertramp, is heading back to North America for a series of fall dates. Following extensive tours of Europe and South America, Hodgson kicks off his North American tour on Nov. 4th in Wabash, Indiana.
Hodgson co-founded the progressive rock band Supertramp in 1969 and was with them for 14 years. He helped define a generation of progressive rock and wrote and sang Supertramp's globally successful and enduring anthems such as "Breakfast in America," "Give a Little Bit," "Take the Long Way Home," "The Logical Song," "Dreamer," "It's Raining Again," "School," and "Fool's Overture" – songs that helped the band sell well over 60 million albums.
Hodgson is recognized as one of the most gifted composers and lyricists of our time. He has twice been recognized by ASCAP (American Society of Composers, Authors, and Publishers) for his songs being in the top played songs in their repertory, proving that they have indeed stood the test of time.
Accompanied by a four-piece band, Roger continues to perform all his hits that he recorded with Supertramp plus other classics – such as "Child of Vision," "Hide in Your Shell," "Sister Moonshine," "Even in the Quietest Moments," plus favorites from his solo albums – "Only Because of You," "Lovers in the Wind," and "In Jeopardy" – many of which can be found on his current CD release, Classics Live.
Uniting generations, Hodgson is transporting baby boomers back to their youth while giving younger concertgoers a taste of why his heartfelt songs have endured. North American audiences are once again preparing to experience the magic and spirit that Hodgson created with Supertramp.
Roger Hodgson North American Tour Dates:
November 4 – Wabash, IN – Honeywell Center
November 6 – Detroit, MI – MotorCity Casino Hotel
November 7 – Niagara Falls, NY – Seneca Niagara Falls Casino and Resort
November 8 – Ridgefield, CT – Ridgefield Playhouse
November 9 – Bethlehem, PA – Sands Bethlehem Event Center
November 11 – Huntington, NY – The Paramount
November 14 & 15 – Rama, ON – Casino Rama – On Sale August 20
"Remarkably, the humble musical legend is back and his signature voice sounds stronger than ever… to see and hear Roger Hodgson in concert today is simply to experience a sort of musical homecoming." Rolling Stone
"This is the real deal: a legendary music man, in brilliant form and shimmering presence, supported by a tight, terrific band. An evening with Roger Hodgson will raise your standards of concert-going." Huffington Post
"Beautiful. That's the word that just keeps popping into your head when watching Roger Hodgson perform. Whether it's the melodic complexity of his songs, the harmonies he weaves with his band, the lyrics that sweep you away or his ability to still command the incredible upper range of his voice…" Classic Rock Music Examiner
Check out his latest release, 'Classics Live'. This spectacular collection of Roger's hit songs from concerts recorded around the world is available through his Store and iTunes.
Enjoy this video montage of Hodgson performing some of his timeless classics.
For more information, visit the Tour page on Hodgson's Website or Events on his Facebook page.
For additional information on Roger Hodgson, visit his Bio.
www.RogerHodgson.com
www.Facebook.com/RogerHodgson