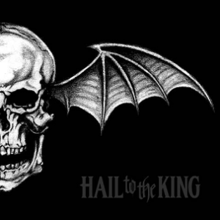 CD Review
Avenged Sevenfold
Hail To The King
2013
By: Robert Winans
✰✰✰✰½
Today I just had the opportunity to take a listen and delve into the new album from American rockers Avenged Sevenfold. A lot of people have been eager to get something new since their last release of Nightmare had been all over the radio and their huge tour that took them all over the world headlining tours and festivals in and out of America including headlining the Rockstar Uproar Tour twice, adding new tunes to their already impressive repertoire of such hits as "Unholy Confessions", "Beast and the Harlot", and "Bat Country" just to name a small few. This new album Hail to the King has promised to be something of a different animal, but is certainly a force that I think is only going to push A7X (their common shorthand) even higher than before.
Months before its release, various interviews about Avenged's new album were expressed to be drawing influence from Black Sabbath, Pantera, and other legendary metal acts. This is the first album that has been written by the band since the passing of Jimmy "The Rev" Sullivan suddenly back in 2009 when they had gotten part way through writing Nightmare. So the pressure to show how that band could carry on with a new stick man (Arin Ilejay) was definitely on, not to mention pouring into the media that you were drawing your influences from basic staples of every old school rock and metal fan. It's like throwing down the proverbial gauntlet to the rock community on par with pointing to the fences while at bat at the bottom of the ninth on Babe Ruth's Birthday.
However, M. Shadows prophecy was definitely worthy of such a bold claim, and the coronation of Hail to the King is certainly more than an exceptional work overall. I have both listened Avenged Sevenfold since 2005, and seen them perform various stages seven times, and they definitely have pushed for a balanced and refined sound that is reminiscent of 80's metal. Granted, it is apparent that some songs, you can almost guess directly as to which band they were drawing from directly, but they do it in such a way that makes them seem like their own separate entity. I expect some will criticize it as straight mimicry, but to do so would be foolish. They have more than made this late 80's early 90's metal vibe their own kind of thing. Frankly, we could use a lot more of it in a world where writing and structuring of music has become so pop-ish coming up with music seemingly out of little more than a handful of words and monotonous three chord tunes. Old school should inform the new school.
The tracks off of this album start off with "Shepherd of Fire" which gives that distinct sound of a chiming bell tower and eerie instrumentals setting the stage from square one declaring " know me by name, shepherd of fire" is as ominous as it is vengeful leading straight into the title track " Hail to the King". It opens with a blistering guitar riff which is counterbalanced by the very gritty heavy drag on rhythm guitar. Prepare for that song to be all over the radio for a long time.
I could go on and on about virtually every song on this album. It takes a bit to impress me from an album primarily because Im not just looking at whether or not its catchy, although that it certainly present here. I look at structure, how much repetition is used, theme, fretwork, comparison to past work etc. However this album picks up its influences with songs like "This Means War" which have that Metallica type foundation of syncopated rhythm that is very simple being counted out by a tandem of rhythm guitar and drum kit giving a slightly heavy driven beat while hearing lead guitar in-between phrasing all coming together on the down beat of each stanza. It's basically heavy driving beat with clever guitar work so that the beat isn't so monotonous that it becomes annoying, but rather makes you want to thrash along with it.
I almost hate to credit any individual song because then it would suggest that the remainder somehow just wasn't as striking, which isn't true in the least. I would bet that songs like "Planets" along with the first half of the album are the songs you can expect to mosh to, whereas the others like "Requiem", "Crimson Day," "Coming Home" and "Acid Rain" range more towards the brilliant side of ballad hits with Acid Rain ending the same way "Shepherd of Fire" begins. I haven't heard a more complete album in a long time, and in my opinion, it's my new favorite Avenged Sevenfold album. Don't get me wrong, "We Are the Fallen" and the like are all fantastic works, but this is easily the album to turn the most heads. It has the most diversity, the most vocal range from M. Shadows, the most polished guitar work from Synyster Gates, Zacky Vengeance and Johnny Christ without seeming dull but not over complicating the fretwork to the point of sounding over complicated. It's the prime example of less is more by simplifying, refining and ultimately giving an album that will throw out what I expect will be a cavalcade of radio rock singles to come. I am eager to see how they will play some of these new tunes live and work them into the show. Avenged Sevenfold is already out on tour playing a few different shows with bands like HIM, Device, and All That Remains, but are going out on their recently announced headlining arena tour featuring Deftones and Ghost B.C.
Track Listing
Shepherd Of Fire
Hail To The King
Doing Time
This Means War
Requiem
Crimson Day
Heretic
Coming Home
Planets
Acid Rain