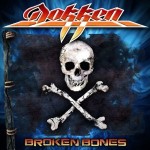 CD Review
Dokken
Broken Bones
Frontiers
2012
✰✰✰
By: Joseph Suto
Dokken are back with their eleventh studio album and first in four years entitled Broken Bones. Broken Bones is the first Dokken album to feature bassist Sean McNabb, who had previously played with Great White on some of their finer releases. The album also brings the band back to what one would recall as their earlier sound when they were in their prime.
The album kicks off in roaring Dokken style with "Empire", a blazing song that really showcases the guitar playing of one Jon Levin. The album is chock full of blistering solos by Levin who cites ex-Dokken guitarist George Lynch as one of his influences. It also features a Jefferson Airplane cover "Today". The rest of the album was written by Dokken and Levin.
The album tends to lose a little cohesiveness after the first few tracks but "Victim Of The Crime" is where the album comes back to life. "Burning Tears" is the true gem of the album. "Leave the past behind" echo the lyrics and that seems to be what Don is doing. Don has stated that this will be the last Dokken album and that he plans on doing something different going forward in a more heavier vein.
Broken Bones is recommended for fans of Don's voice and songwriting along with some amazing guitar work. This record falls into the middle of the pack when ranked with the rest of the Dokken catalog. No where near embarrassing.
Tracks
01. Empire
02. Broken Bones
03. Best Of Me
04. Blind
05. Waterfall
06. Victim Of The Crime
07. Today
08. Burning Tears*
09. For The Last Time
10. Tonight
11. Fade Away