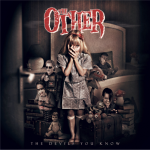 CD Review
The Other
The Devils You Know
Steamhammer/SPV
2012
☆☆☆☆
By Chris Kiebzak
The Other, a German based horror punk band, recently released their fifth full length album The Devils You Know. This hook filled, guitar driven LP is all you need to understand this punk rock, diamond in the rough which hails from the western continent of Europe.
Opening the record with a short intro of the same name provided a great segue into "My Home Is A Casket". Double bass drums and heavy guitar riffs accompany this worthy song along with a melodic voice that can only come from lead vocalist Rod Usher. Belting out melodic, controlled vocals is obviously something Usher holds dear as this is quickly recognized with lyrics that tend to mean something and aren't there just to "shock" people like some other bands of the waning horror punk genre. Songs "Skeletons In the Closet" and "Puppet on a string" are two tracks that showcase the crushing bass styles of Viktor Sharp who just stepped into the position last year replacing former bassist Andy Only.
The Other holds interest through the entire fifteen tracks that The Devils You Know has to offer. And an offering up of the goods is exactly what you get with this blazing mix of fast and slower tempo punk songs that focus on the darker side of life all while providing a fun, no holds barred attitude that closely resembles that of The Misfits and Blitzkid with one noticeable difference; The song structures here are almost flawless with each providing a new way to express a genre that seems to be uniformed at best lately. One listen to this underground masterpiece should help regain hope in a current punk world filled with pop underlies and forgettable lyrics and vocal abilities. The Devils You Know not only does just that, but they will rip your head off in the process. This is a sure win if real punk at all tickles your fancy.
Tracks:
01. The Devils You Know
02. My Home Is My Casket*
03. Take You Down
04. Skeletons In The Closet
05. Fright Night
06. Puppet On A String
07. In My Veins
08. Nice Day For A Funeral*
09. Nightmare On Halloween
10. The Phantom Of The Opera*
11. Fire From Outer Space
12. Where Is Your Saviour Now
13. Hell Is A Place On Earth
14. In The Shadows
15. Ewigkeit
Produced by: Waldemar Sorychta (Grip Inc., Tiamat, Moonspell)

Line-Up:
Rod Usher – vocals
Sarge von Rock – guitars
Victor Sharp – bass
Dr. Caligari – drums